Is Longmont Safe for Bicyclists?
Following the high-profile bicycle accident in which Mayor Brian Bagley struck a cyclist this past March, it is high time that we examine how safe Longmont is for bicyclists. Our discussion will be based around some noteworthy bike accidents in and around our community, as well as the recently published 2019 City Scorecard from the non-profit People for Bikes. At Cook, Bradford & Levy, LLC, our experienced Longmont personal injury lawyers have helped numerous bicycle accident victims receive financial compensation for their injuries. With that said, we are also bicycle safety advocates, striving to be a positive force in educating our community about bicycle safety and the places where bikes and automobiles come together. Call us today for a free meeting about your case at 303-543-1000.
Analyzing Longmont's Bikeability Scorecard From People for Bikes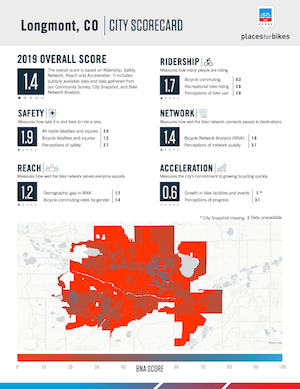 Well, where do we start? To put it nicely, Longmont has a long way to go in improving bicycle safety, awareness, and incorporating cycling into the fabric of the community. Unfortunately, after reviewing the most recent People for Bikes report, any bicycle accident attorney in Longmont would probably agree with People for Bikes's assessment. Sadly, Longmont received a 1.4 out of 5 score, which is based on factors such as how many people in Longmont ride bicycles, the network of bike paths and designated bike lanes in the area, safety ratings and crash statistics, as well as awareness among the community of viable bike routes and the proper relationship between cyclists and automobiles. The best thing about the report is that it offers suggestions to improve our score, and at Cook, Bradford & Levy, LLC, we look forward to playing our part to achieve a better ranking next year.
Let's analyze it in more detail.
The Bicycle Safety Rating
Our Longmont personal injury attorneys believe that the number one factor in getting people to bike is for them to believe that it is safe to ride bicycles in Longmont. In this regard, Longmont received a 1.9 out of 5 score, which reflects a relatively high number of bicyclist deaths and injuries.
To illustrate the point, on February 3rd of 2019, a cyclist was hit and killed by a train at Ken Pratt Boulevard and Nelson, even though the train saw the cyclist and all safety warning systems, such as horns, gates, and lights, were working. When a bicycle accident happens under these circumstances, public perception of bike safety is hurt because someone was killed in spite of fully functioning active safety measures. Indeed, people start believing, with good reason, that current safety measures simply do not work.
Similarly, when high-profile bicycle crashes are in the news, it damages a perception of bicycle safety in and around Longmont. Here, in mid-March of 2019, Longmont Mayor, Brian Bagley, hit a bicyclist at Third Avenue and Main Street. While the cyclist only apparently sustained minor injuries, the crash did result in an Emergency Room visit and contributed to the perception that riding bikes in our community is unsafe. Moreover, the police investigated the crash and did not cite Mayor Bagley. While the evidence certainly may have supported this conclusion, in a world of headlines and sound bites, the lack of a citation enforces the idea that bicyclists are helpless against bad drivers – which any bicycle accident attorney knows is simply incorrect.
How Many People in Longmont Ride Bikes?
The reality is that, relatively speaking, not many folks in Longmont ride bikes, which is reflected in the score of 1.7 out of 5 in the area of Ridership. Specifically, the data relied on by People for Bikes found that the number of bicycle commuters was extremely low, rating 0.3 out of 5. To give some context, the City of Boulder scored 3.2 out of 5 for the number of people commuting to and from the office.
So how can our community get more people on bikes and improve our score? First, it is important to spread the message that cycling is a health activity that is also fun. Once people learn for themselves the value of cycling, the amount of people participating in the sport will naturally increase. At Cook, Bradford & Levy, LLC, we are active participants in activities like Bike to Work Day, where we partner with a local bike shop to encourage positive cycling habits and educate riders on safety issues and how to handle potential claims against careless motorists.
Call Us Today
While a good personal injury lawyer in Longmont knows how to handle a bicycle accident claim, the attorneys at Cook, Bradford & Levy, LLC have studied the unique aspects of bicycling in Longmont. Our attorneys know how to advocate for your claim, as well as for general improvement of the cycling environment in our communities. If you have any questions about how you can get involved in fostering a positive bicycle experience in Longmont, or if you have been injured in a bicycle accident, we invite you to call our team of experienced lawyers today at 303-543-1000 for a free consultation. We look forward to hearing from you!